SIEGE
I went to high school in Weymouth Mass with the guys from the hardcore band SIEGE (Kurt, Hank, and Rob). I knew the guys from the band, and caught a few of their practices at the church they practiced in in Jackson Square.

In the spring of 1984 SIEGE played in a surreal 'Battle of the Bands' at our crappy school. Featured were a hair rock outfit called 'Tempest', a cover band called 'Surrender', and some other lame bands I can't remember. It's a safe bet that 99% of the audience had never heard any hardcore punk rock.

I was photographer for our boring school newspaper, the North High Highlights, and captured everything on black & white film. The newspaper was a photocopied handout that was universally ignored at school. Our Highlights was a lot like Highlights for Children magazine, except less controversial (and minus the crossword puzzle).

A few years ago I discovered that SIEGE is legendary in the hardcore/grindcore world, and this was their first show. I dug around my garage, and found all the photos, negatives, and original newspaper story. So I scanned everything in, and thought these photos and story might be entertaining.

Click on any of these thumbnails to get a fullsized picture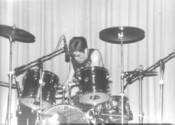 SIEGE takes the stage, Rob Williams drumming
---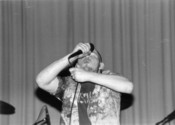 Kevin Mahoney on vocals
---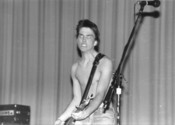 Hank McNamee on bass
---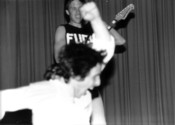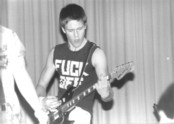 Kurt Habelt on guitar, after unveiling his famous shirt.
---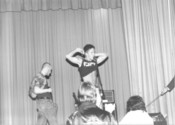 Mr. Concannon (our Drill Sargent-style assistant principal) literally pulls the plug on the show, until Kurt removes his shirt.
---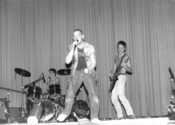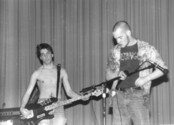 The show goes on
---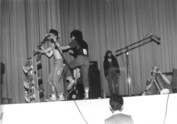 Hank smashes a bass on stage, which ends the show and gets SIEGE disqualified.

Unfortunately, the glaring Mr Concannon is cropped from this print (see the photo from Highlights below). I made the (now lost) print for Highlights in the high school photo lab; a friend working at a Fotomart made these scanned prints for me about 10 years ago.
---
Read all about it, as the story appeared in its original photocopied dot matrix glory: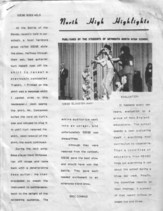 I was originally going to run a report card of all the bands for the newspaper, but they were too lame and I just covered SIEGE. I think the hair band Tempest won the show. I'm not really sure. I do remember that Tempest's lead singer wore shiny pants.
---
June 2004 Update:

I heard from Rob and Kurt, who were happy to see these 'lost' photos. I sent a new set of prints for Rob; they came out well. I have extra sets if anyone else from the band is interested.

Also, Deep Six Records has reissued a SIEGE 12" (see below), ready for June 1st.

Siege fans or members are welcome to shoot me an email here: 1984-siege@backshore.net. This is a temporary address I set up for this page to avoid spam, it may change in the future.


---
There's a great Siege article on Megalomaniacal Supernauts, here's a quote:


"There was a time when we made a deliberate decision to set out to be the absolute fastest band," says Williams, whose speed training included playing AC/DC's Highway To Hell LP at 45 RPM and duplicating the drum beats while wearing headphones. The track 'Beating Around The Bush' becomes galloping Brit punk when played on 45, he notes. "I loved metal, too Venom, Priest, Motorhead's 'Iron Fist.' In fact, we covered Venom's 'Warhead' at our first show, which was at our high school's battle of the bands -- we got disqualified for obscenity, plus our bassist Hank smashed his bass. But it was about speed. We would listen to the fastest punk and hardcore bands we could find and say, 'Okay, we're gonna deliberately write something that is faster than them, because we are going to be the fastest.' We took it very seriously."


Some SIEGE links:




New SIEGE 12" reissue, by Deep Six Records

KILL FROM THE HEART's SIEGE page

Siege's Drop Dead demo.

Siege appeared on Pushead's classic hardcore Cleanse the Bacteria compilation.

Photos and text copyright 2003 Eric Conrad